Welcome to MicrobiologyInfo.com, constantly growing and evolving collection of microbiology notes and information. Whether you're a student, professor, working in the medical field or just curious about microbiology, I'm sure you'll find our articles interesting and informative. We are always interested to hear what you have to say, so please leave us comments at the bottom of the articles.
Please, choose an interesting category from the menu above or maybe take a look at our most popular articles below:
About the Author – Sagar Aryal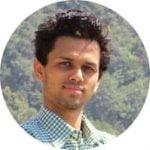 My name is Sagar Aryal and I'm a passionate microbiologist and a scientific blogger. I did my Master's Degree in Medical Microbiology and currently working as a Lecturer at Department of Microbiology, St. Xavier's College, Kathmandu, Nepal. I'm particularly interested in research related to medical microbiology, virology and natural products. I'm also currently doing my Ph.D. from Central Department of Microbiology, Tribhuvan University. You can learn more about me, my credentials, publications and awards on my personal website.