C-Reactive Protein (CRP) Test- Principle, Uses, Procedure and Result Interpretation
C-Reactive Protein (CRP), also known as Pentraxin 1, is a non-glycosylated protein in the Pentraxin family that also includes Pentraxin 2/SAP and Pentraxin 3/TSG-14. CRP is an acute phase reactant, a protein made by the liver and released into the blood within a few hours after tissue injury, the start of an infection, or other cause of inflammation.
A high level of CRP in the blood is a sign that there may be an inflammatory process occurring in the body. Inflammation itself isn't typically a problem, but it can indicate a host of other health concerns, including infection, arthritis, kidney failure, and pancreatitis. High CRP levels may put patients at increased risk for coronary artery disease, which can cause a heart attack.
A CRP test is a blood test designed to measure the amount of CRP in the blood.
Principle of CRP Test
The C-Reactive Protein test is based on the principle of the latex agglutination. When latex particles complexed human anti-CRP are mixed with a patient's serum containing C reactive proteins, an visible agglutination reaction will take place within 2 minutes.
Uses of CRP Test
CRP may be used to detect or monitor significant inflammation in an individual who is suspected of having an acute condition, such as serious bacterial infection like sepsis, a fungal infection and Pelvic inflammatory disease (PID).

The CRP test is useful in monitoring people with chronic inflammatory conditions to detect flare-ups and/or to determine if treatment is effective. Some examples include Inflammatory bowel disease, some forms of arthritis and Autoimmune diseases, such as lupus or vasculitis.

The determination of the CRP-level is useful to monitor the therapy.

It is done to check for infection after surgery. CRP levels normally rise within 2 to 6 hours of surgery and then go down by the third day after surgery. If CRP levels stay elevated 3 days after surgery, an infection may be present.
Procedure of CRP Test
Qualitative Test
Bring all reagents and serum sample to Room Temperature and mix latex reagent gently prior to use. Do not dilute the controls and serum.

Place 1 drop of Serum, Positive control and Negative control on separate reaction circle on glass slide.

Then add 1 drop of CRP latex reagent to each of the circles.

Mix with separate mixing sticks and spread the fluid over the entire area of the cell.

Tilt the slide back and forth slowly for 2 minutes observing preferably under artificial light.

Observe for visible agglutination.
Semi-Quantitative Test
Prepare dilution of the specimen with physiological saline 0.9%, as indicated in the following table

Then proceed for each dilution as in qualitative test.
Result Interpretation of CRP Test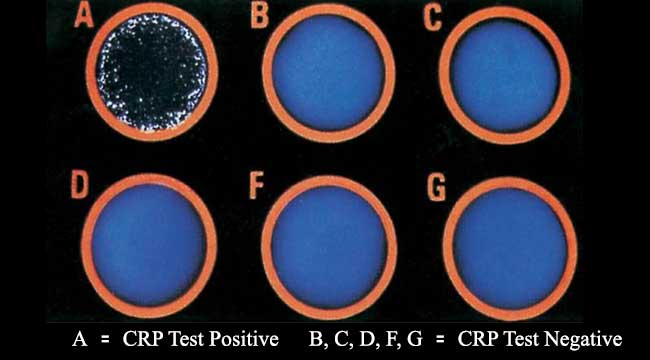 Positive: Agglutination of latex particles, indicating the presence of C – reactive protein at a significant and detectable level.
Negative: No Agglutination.
For Semi-Quantitative Test Results, the last dilution of serum with visible agglutination is the CRP titre of the serum. 
CALCULATION OF TITRE:
CRP ug/ml = 7 x D, where D is the highest dilution of serum showing agglutination and 7 is the sensitivity in ug/ml.
Limitations of CRP Test
The strength of the agglutination reaction is not indicative of the CRP concentration. Weak reactions may occur with slightly elevated or markedly elevated concentrations.

A prozone phenomena (antigen excess) may cause false negatives. It is advisable, therefore, to check all negative sera by retesting at a 1:10 dilution.

Reaction times longer than specified may produce apparent false reactions due to a drying effect.

Strongly lipemic or contaminated sera can cause false positive reactions.

Only serum should be used in this test.

A quantitative titration procedure on positive specimens is required to observe increasing or




decreasing levels.

Patients with high titers of rheumatoid factors may give positive results.
References
Healthline- C-Reactive Protein Test.

R&D Systems, Quantikine ELISA- Human C-Reactive Protein/CRP Immunoassay.

Swemed Diagnostics- CRP Test.

Genix Technology- RapidTex CRP Latex Test.

University of Washington Medical Center- C-Reactive Protein.

MLAB 1235 Immunology/Serology- Laboratory 7: C-Reactive Protein Testing.

Lab Tests Online- C-Reactive Protein.

Mayo Clinic- Tests and Procedures- C-reactive protein test.

MedlinePlus- C-reactive protein.

MedicineNet- C-Reactive Protein (CRP).

eMedicineHealth- C-Reactive Protein Test (CRP).

Life Extension- Testing For C-reactive Protein May Save Your Life.

KidsHealth, Medical Tests & Exams, Blood Test: C-Reactive Protein (CRP).

WebMD- Digestive health centre- C-reactive protein (CRP).

WebMD- Heart Disease and C-Reactive Protein (CRP) Testing.

Share Care- What do C-reactive protein (CRP) test levels indicate?

Walk-In-Lab, C-Reactive Protein (CRP) Blood Test, Quantitative.

Australian Prescriber- C-reactive protein.

The New York Times, Health Guide- C-Reactive Protein.

About- What Is the C-Reactive Protein (CRP) Test?

Group Health- C-Reactive Protein (CRP).

Health Link BC, Medical Tests A-Z, C-Reactive Protein (CRP).

Diagnostic Automation/Cortez Diagnostics Inc.- CRP Latex Test Kit (Serology test).

Laboratory Info

Wikipedia
C-Reactive Protein (CRP) Test- Principle, Uses, Procedure and Result Interpretation
Rated
4.8
/5 based on
29
reviews
C-Reactive Protein (CRP) Test- Principle, Uses, Procedure and Result Interpretation
Coombs Test- Principle, Types, Procedure and Result Interpretation
Coombs test is also known as antiglobulin test. The Coombs test tests for antibodies that may stick to the red blood cells and cause red blood cells to die too early. It was discovered by Coombs, Mourant and Race in 1945. Coombs reagent is antihuman globulin. It is made by injecting human globulin into animals, which produce polyclonal antibodies specific for human immunoglobulins and human complement system factors.
Principle of Coombs test
Red cells coated with complement or IgG antibodies do not agglutinate directly when centrifuged.  These cells are said to be sensitized with IgG or complement. In order for agglutination to occur an additional antibody, which reacts with the Fc portion of the IgG antibody, or with the C3b or C3d component of complement, must be added to the system. This will form a "bridge" between the antibodies or complement coating the red cells, causing agglutination.
Types of Coombs test
Direct Coombs Test (Direct Antiglobulin Test- DAT)
The direct Coombs test is used to detect antibodies (IgG or C3) that are stuck to the surface of red blood cells. Many diseases and drugs can cause this. These antibodies sometimes destroy red blood cells and cause anemia.
This is the test that is done on the newborn's blood sample, usually in the setting of a newborn with jaundice. The two most commonly recognized forms of antibody-mediated hemolysis in newborns are Rh incompatibility and ABO incompatibility.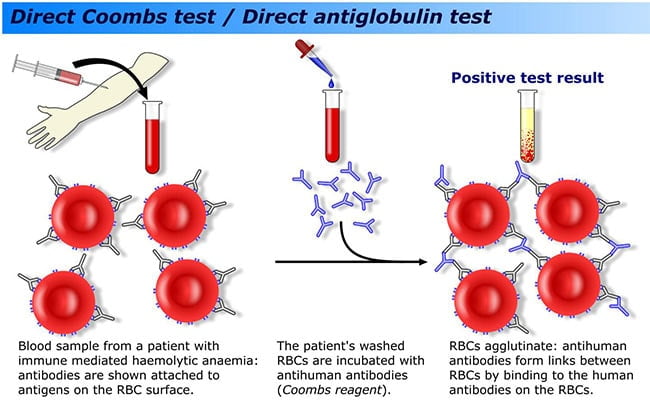 Procedure of Direct Coombs Test
Prepare a 5 % suspension in isotonic saline of the red blood cells to be tested.

With clean pipette add one drop of the prepared cell suspension to a small tube.

Wash three times with normal saline to remove all the traces of serum.

Decant completely after the last washing.

Add two drops of Anti-human serum.

Mix well and centrifuge for one minute at 1500 RPM.

Resuspend the cells by gentle agitation and examine macroscopically and microscopically for agglutination.
Indirect Coombs Test (Indirect Antiglobulin Test- IAT)
The indirect Coombs test looks for free-flowing antibodies against certain red blood cells. It is most often done to determine if you may have a reaction to a blood transfusion.
This is the test that is done on the mother's blood sample as part of her prenatal labs.  Frequently referred to as the "antibody screen", this test identifies a long list of minor antigens that could either cause problems in the newborns or cause problems in the mother if transfusion is necessary.
Approximately 5% of patients have a positive IAT due to IgG antibodies, IgM antibodies, or both.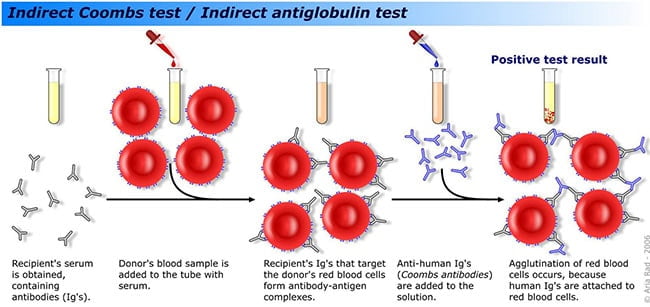 Procedure of Indirect Coombs Test
Label three test tubes as T (test serum) PC (Positive control) and NC (negative control).

In the tube labeled as T (Test), take 2 drops of test serum.

In the test tube labeled as PC (Positive control), take 1 drop of anti D serum.

In the test tube labeled as NC (Negative control), take 1 drop of normal saline.

Add one drop of 5 % saline suspension of the pooled 'O' Rho (D) positive cells in each tube.

Incubate all the three tubes for one hour at 37°C.

Wash the cells three times in normal saline to remove excess serum with no free antibodies, (in the case of inadequate washings of the red cells, negative results may be obtained).

Add two drops of Coombs serum (anti human serum) to each tube.

Keep for 5 minutes and then centrifuge at 1,500 RPM for one minute.

Resuspend the cells and examine macroscopically as well as microscopically.
Result Interpretation of Coombs Test
Negative Result:
No clumping of cells (no agglutination). This means you have no antibodies to red blood cells.
Positive Result:
Clumping (agglutination) of the blood cells during a direct Coombs test means that you have antibodies on the red blood cells and that you may have a condition that causes the destruction of red blood cells by your immune system (hemolysis). This may be due to
Hemolytic anemia,

Chronic lymphocytic leukemia or similar disorder,

Erythroblastosis fetalis (hemolytic disease of the newborn),

Infectious mononucleosis,

Mycoplasmal infection,

Syphilis,

Systemic lupus erythematosus and

Transfusion reaction, such as one due to improperly matched units of blood.
References:
Stanford School of Medicine

Institute For Transfusion Medicine

Johns Hopkins Lupus Center

University of Alberta

Madison College

Healthline

Medline Plus

Web MD

Lab Test Online

Patient

Cigna

Medscape

Healthlink BC

Laboratory Info

Wikipedia
Coombs Test- Principle, Types, Procedure and Result Interpretation
Haemolysis of Streptococci and its types with examples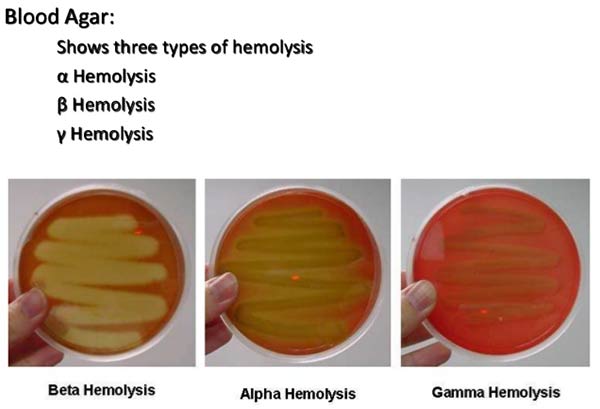 Hemolysis is the breakdown of red blood cells (RBC). A substance that causes hemolysis is a hemolysin. Brown (1919) introduced three terms alpha, beta and gamma to indicate three types of streptococci based on haemolytic reactions observed on blood agar plates.
Beta-hemolytic Streptococci

Source : Bacteria in Photos (http://www.bacteriainphotos.com)
Beta-hemolysis (β-hemolysis) is associated with complete lysis of red cells surrounding the colony. Beta hemolysis is caused by two hemolysins O and S; the former is inactive in the presence of oxygen. Thus, stabbing of the plate increases the intensity of the hemolysis reaction. S is an oxygen-stable cytotoxin.
It exhibit a wide zone (2-4 mm wide). Beta hemolysis is more marked when the plate has been incubated anaerobically. They are generally commensals of throat and causes opportunistic infections.
Examples: Streptococcus pyogenes, or Group A beta-hemolytic Strep (GAS).
Weakly beta-hemolytic species: Streptococcus agalactiae, Clostridium perfringens,  Listeria monocytogenes
Alpha-hemolytic Streptococci

Source : Bacteria in Photos (http://www.bacteriainphotos.com)
Alpha-hemolysis (α-hemolysis) is a partial or "green" hemolysis associated with reduction of red cell hemoglobin. Alpha hemolysis is caused by hydrogen peroxide produced by the bacterium, oxidizing hemoglobin to green methemoglobin.
It exhibit incomplete haemolysis with 1-2 mm wide. Persistence of some unhaemolysed RBC's can be seen microscopically.
Examples:  Streptococcus pneumoniae and a group of oral streptococci (Streptococcus viridans or viridans streptococci)
Gamma-hemolytic (Non-haemolytic) Streptococci

Source : Bacteria in Photos (http://www.bacteriainphotos.com)
Colonies show neither typical alpha nor beta haemolysis. There may be, however, slight discoloration in the medium. The streptococci included in this group are usually not pathogenic.
Examples:  Enterococcus faecalis (formerly called "Group D Strep")
Haemolysis of Streptococci and its types with examples