MicrobiologyInfo.com is a constantly growing and evolving collection of microbiology notes and information. Whether you're a student, professor, working in the medical field or just curious about microbiology, I'm sure you'll find our articles interesting and informative. Writing comprehensive and accurate medical notes is a very time consuming process, but we try to keep our site updated with the latest developments in the microbiology field.
About the Author – Sagar Aryal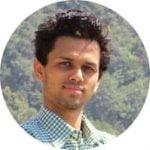 Sagar Aryal is a passionate microbiologist and a scientific blogger. He did his Master's Degree in Medical Microbiology and currently working as a Lecturer at Department of Microbiology, St. Xavier's College, Kathmandu, Nepal. He is particularly interested in research related to medical microbiology, virology and natural products.
Sagar has published more than a dozen papers in reputed journals and has been serving as the Founder and Executive Editor of International Journal of Microbiology and Allied Sciences (IJOMAS)
He is currently doing his Ph.D. from Central Department of Microbiology, Tribhuvan University. You can learn more about Sagar, his credentials, publications and awards on his personal website.