C-Reactive Protein (CRP), also known as Pentraxin 1, is a non-glycosylated protein in the Pentraxin family that also includes Pentraxin 2/SAP and Pentraxin 3/TSG-14. CRP is an acute phase reactant, a protein made by the liver and released into the blood within a few hours after tissue injury, the start of an infection, or other cause of inflammation.
A high level of CRP in the blood is a sign that there may be an inflammatory process occurring in the body. Inflammation itself isn't typically a problem, but it can indicate a host of other health concerns, including infection, arthritis, kidney failure, and pancreatitis. High CRP levels may put patients at increased risk for coronary artery disease, which can cause a heart attack.
A CRP test is a blood test designed to measure the amount of CRP in the blood.
Principle of CRP Test
The C-Reactive Protein test is based on the principle of the latex agglutination. When latex particles complexed human anti-CRP are mixed with a patient's serum containing C reactive proteins, an visible agglutination reaction will take place within 2 minutes.
Uses of CRP Test
CRP may be used to detect or monitor significant inflammation in an individual who is suspected of having an acute condition, such as serious bacterial infection like sepsis, a fungal infection and Pelvic inflammatory disease (PID).
The CRP test is useful in monitoring people with chronic inflammatory conditions to detect flare-ups and/or to determine if treatment is effective. Some examples include Inflammatory bowel disease, some forms of arthritis and Autoimmune diseases, such as lupus or vasculitis.
The determination of the CRP-level is useful to monitor the therapy.
It is done to check for infection after surgery. CRP levels normally rise within 2 to 6 hours of surgery and then go down by the third day after surgery. If CRP levels stay elevated 3 days after surgery, an infection may be present.
Procedure of CRP Test
Qualitative Test
Bring all reagents and serum sample to Room Temperature and mix latex reagent gently prior to use. Do not dilute the controls and serum.
Place 1 drop of Serum, Positive control and Negative control on separate reaction circle on glass slide.
Then add 1 drop of CRP latex reagent to each of the circles.
Mix with separate mixing sticks and spread the fluid over the entire area of the cell.
Tilt the slide back and forth slowly for 2 minutes observing preferably under artificial light.
Observe for visible agglutination.
Semi-Quantitative Test
Prepare dilution of the specimen with physiological saline 0.9%, as indicated in the following table
Then proceed for each dilution as in qualitative test.
Result Interpretation of CRP Test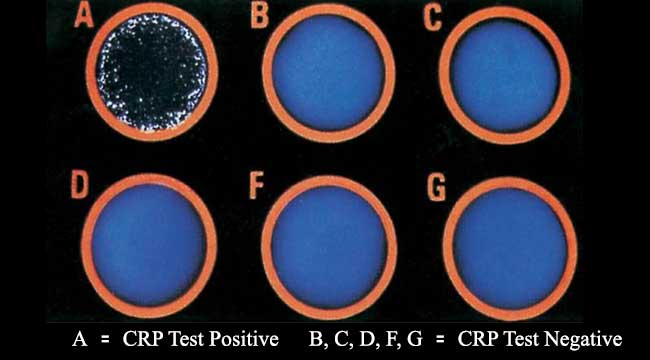 Positive: Agglutination of latex particles, indicating the presence of C – reactive protein at a significant and detectable level.
Negative: No Agglutination.
For Semi-Quantitative Test Results, the last dilution of serum with visible agglutination is the CRP titre of the serum.
CALCULATION OF TITRE:
CRP ug/ml = 7 x D, where D is the highest dilution of serum showing agglutination and 7 is the sensitivity in ug/ml.
Limitations of CRP Test
The strength of the agglutination reaction is not indicative of the CRP concentration. Weak reactions may occur with slightly elevated or markedly elevated concentrations.
A prozone phenomena (antigen excess) may cause false negatives. It is advisable, therefore, to check all negative sera by retesting at a 1:10 dilution.
Reaction times longer than specified may produce apparent false reactions due to a drying effect.
Strongly lipemic or contaminated sera can cause false positive reactions.
Only serum should be used in this test.
A quantitative titration procedure on positive specimens is required to observe increasing or
decreasing levels.
Patients with high titers of rheumatoid factors may give positive results.
References
Healthline- C-Reactive Protein Test.
R&D Systems, Quantikine ELISA- Human C-Reactive Protein/CRP Immunoassay.
Swemed Diagnostics- CRP Test.
Genix Technology- RapidTex CRP Latex Test.
University of Washington Medical Center- C-Reactive Protein.
MLAB 1235 Immunology/Serology- Laboratory 7: C-Reactive Protein Testing.
Lab Tests Online- C-Reactive Protein.
Mayo Clinic- Tests and Procedures- C-reactive protein test.
MedlinePlus- C-reactive protein.
MedicineNet- C-Reactive Protein (CRP).
eMedicineHealth- C-Reactive Protein Test (CRP).
Life Extension- Testing For C-reactive Protein May Save Your Life.
KidsHealth, Medical Tests & Exams, Blood Test: C-Reactive Protein (CRP).
WebMD- Digestive health centre- C-reactive protein (CRP).
WebMD- Heart Disease and C-Reactive Protein (CRP) Testing.
Share Care- What do C-reactive protein (CRP) test levels indicate?
Walk-In-Lab, C-Reactive Protein (CRP) Blood Test, Quantitative.
Australian Prescriber- C-reactive protein.
The New York Times, Health Guide- C-Reactive Protein.
About- What Is the C-Reactive Protein (CRP) Test?
Group Health- C-Reactive Protein (CRP).
Health Link BC, Medical Tests A-Z, C-Reactive Protein (CRP).
Diagnostic Automation/Cortez Diagnostics Inc.- CRP Latex Test Kit (Serology test).
Laboratory Info
Wikipedia
Similar Posts: