Fungal cell membranes have a unique sterol, ergosterol, which replaces cholesterol found in mammalian cell membranes.  An antifungal agent is a drug that selectively eliminates fungal pathogens from a host with minimal toxicity to the host.
1. Polyene antibiotics
The poleyenes possess a macrocyclic ring, one side of which has a several conjugated double bonds and is highly lipophilic while the other side is hydrophilic with many OH groups.  A polar aminosugar and a carboxylic acid group are present at one end in some. They are all soluble in water and unstable in aqueous medium.
A. Amphotericin B
Amphotericin B is a naturally occurring polyene macrolide antibiotic produced by Streptomyces nodosus.
Amphotericin B is prototype of polyene antibiotics and have high affinity for ergosterol present in fungal cell membrane.
It then gets combined with the membrane and get inserted into the membrane and several molecules together orient themselves in such a way as to form the micropore.
The hydrophilic side forms the interior of the pore through which ions, aminoacids and other water soluble substances move out.
The cell permeability is markedly increased and due to this the cell death occurs.
B. Nystatin
Nystatin is obtained from noursei and is similar to Amphotericin B in antifungal action and other properties.
It binds to fungal cell membrane (Ergosterol) and forms pores.
This alters permeability & transport and as a result, cell death occurs.
2. Heterocyclic benzofuran
Griseofulvin
It was one of the early antibiotics extracted from Penicillium griseofulvum.
It is active against most dermatophytes including epidermophyton, trichophyton , microsporum but not against Candida and other fungi causing mycosis.
It is fungistatic in nature.
It interferes with mitosis-multinucleated and stunned fungal hyphae result from its action.
It causes abnormal metaphase configuration, however doesn't cause metaphase arrest, rather the daughter nuclei fail to move apart or move only a short distance.
It does not inhibit polymerization of tubulin but somehow disorients the microtubules.
3. Antimetabolite
Flucytosine
It is a pyrimidine antimetabolite and inactive as such.
Flucytosine is taken up by fungal cells via the enzyme cytosine permease.
5-FC is then converted by a series of steps to 5-fluorodeoxyuridine 5'-monophosphate.
This false nucleotide inhibits thymidylate synthase, thereby depriving the organism of thymidylic acid, an essential DNA component.
The unnatural mononucleotide is further metabolized to a trinucleotide (5-fluorodeoxyuridine 5'-triphosphate) and is incorporated into fungal RNA, where it disrupts nucleic acid and protein synthesis.
4. Echinocandins
Echinocandins interfere with the synthesis of the fungal cell wall.
It is Glucan synthesis inhibitor.
It nhibits 1,3- beta glucan synthase, an enzyme important in fungal cell wall synthesis and subsequently inhibit the synthesis of beta glucan in the fungal cell wall.
Disruption of the fungal cell wall leads to cellular osmotic instability and cell death.
5. Terbinafine
It is synthetic allylamine and orally active.
It is used for treating dermatophytoses, especially onychomycosis.
It interferes with ergosterol biosynthesis by inhibiting the fungal enzyme squalene epoxidase rather than interacting with the P450 system.
Acting as a structural analogue of squalene, terbinafine causes the accumulation of this unsaturated hydrocarbon, and a decrease in ergosterol in the fungal cell membrane.
The accumulation of toxic amounts of squalene result in the death of the fungal cell.
6. Azoles
The azole antifungal drugs act by inhibiting the synthesis of the sterol components of the fungal membrane.
Azoles are predominantly fungistatic.
They inhibit C-14 α-demethylase (a cytochrome P450 [CYP450] enzyme), thereby blocking the demethylation of lanosterol to ergosterol, the principal sterol of fungal membranes.
This inhibition disrupts membrane structure and function, which then inhibits fungal cell growth.
Azoles are primarily divided into two groups: imidazoles and triazoles.
Clotrimazole, Econazole, Miconazole, Ketoconazole fall under imidazoles group and Fluconazole, Itraconazole, Posaconazole and Voriconazole fall under triazoles group
The imidazoles and triazoles cause rapid defects in fungal membrane integrity due to reduced levels of ergosterol, with loss of cytoplasmic constituents leading to similar effects to the polyenes.
They impair ergosterol synthesis leading to cascade of membrane abnormalities in the fungus.
7. Topical antifungals
A. Ciclopirox
Ciclopirox inhibits the transport of essential elements in the fungal cell, disrupting the synthesis of DNA, RNA, and protein.
Ciclopirox is active against Trichophyton rubrum, Trichophyton mentagrophytes, Epidermophyton floccosum, Microsporum canis, Candida albicans, and Malassezia furfur.
B. Tolnaftate
Tolnaftate distorts the hyphae and stunts mycelia growth in susceptible fungi.
Tolnaftate is active against Epidermophyton, Microsporum, and Malassezia furfur.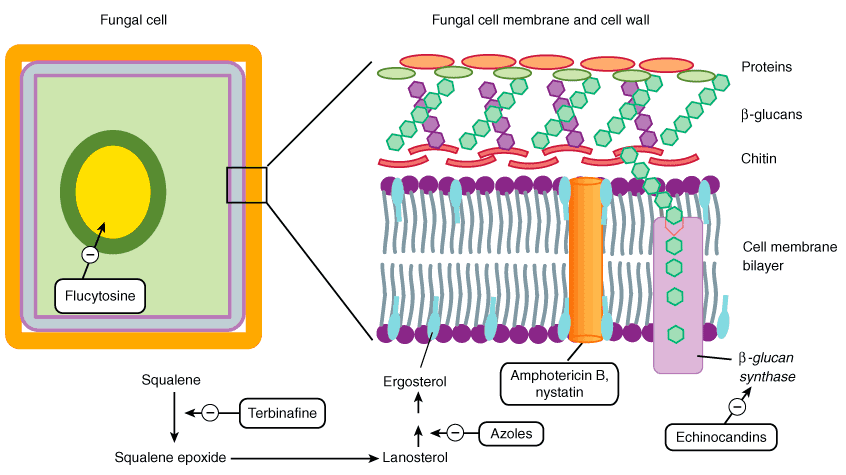 References
Denyer S.P, Hodges N, Gorman S.P and Gilmore B.F. 2011. Hugo and Russell's Pharmaceutical Microbiology. Eighth edition. A John Wiley & Sons, Ltd. Publication. Page no.191-193.
Clark M.A, Finkel R, Rey J.A, and Whalen K. 2012. Lippincott's Illustrated Reviews: Pharmacology. Fifth edition. Lippincott Williams & Wilkins, a Wolters Kluwer business. 351 West Camden Street Two Commerce Square Baltimore, MD 21201. Page no.429-440.
Tripathi K.D. 1994. Essentials of Medical Pharmacology. Third edition. Jaypee Brothers Medical Publishers (P) Ltd. B-3 EMCA House 23/23B, Ansari Road, Daryaganj, New Delhi 110 002, India. Page no.707-716.